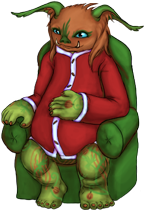 Grmm. Hello. Please be quiet, I have sensitive hearing.
Take a look at these items I harvested from the snow. Arctic, I know.
If you want to buy one, just click on it. The number by each item indicates how many I have in stock. Buy one or don't, it doesn't matter to me.
I put out more items pretty often, if I'm out of anything you want, just come back Today at 11:12:01 AM. Or don't, that's cool too.