Interdimensional Cash Shop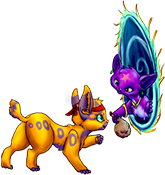 Darlon and Quiffin were messing around in their father's workshop like they always did late on Saturday nights when whizzzzBLAM!! They opened a portal to another dimension (and it happened to be Earth!). Thanks to these young starmots, you can now use your Earth money to buy Xanje stuff... how cool!
Click here for important information about this shop.
Pet Sex Changer
$1.00 for 3
Pet Sex Changer
$5.00 for 20
Pet Sex Changer
$10.00 for 50
Magenta Growth Potion
$1.00 for 10
Green Growth Potion
$1.00 for 20
Grey Swirl Stone
$1.00 for 5
Pink Swirl Stone
$1.00 each
Minty Green Stone
$1.00 for 2
Red Swirl Stone
$3.00 for 2
Blue Pregnancy Potion
$1.00 for 15
Green Pregnancy Potion
$1.00 for 10
Coins
$1.00 for 50,000
Golden Leaf
$1.00 for 50
Red Leaf
$1.00 for 150
Stray Net
$1.00 for 15